Here is : Home --> Products --> Fingerprint Products
BeSeen BSF21 Color Fingerprint Access Control & Time attendance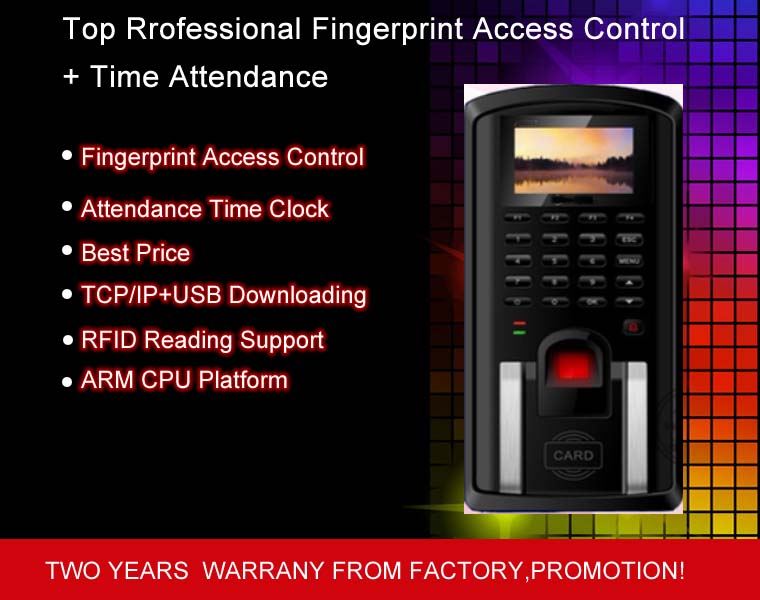 Color Fingerprint Time Recorder+Professional Access Control +TCPIP+USB+ID Card Reading Feature
- Strictly follow the national security product standard. Suitable for the entrances and exits of office, factory, hotel, school, etc.
- Adopting RS485 or Tcp/ip carries out networking. U disk download is available.
- Dismantlement alarm, threatens alarm, unlock illegally alarm, not block alarm are available.
- Arm9 CPU, big capacity FLASH and CMOS chips, Open SDK, professional technical support, easy to integrate with various systems.
- Sensor with quality image, accepts dry, wet fingers. Adjust image distortion, assure fingerprint matching consistency.
- Support 360-degree rotation identification, easy to use.Finger/Card/Password/Finger+Card/Finger+Password/Card+Password/Finger+Card+Password identification modes are all available.
Casing material :
Acrylonitrile Butadiene Styrene (ABS)
Dimension(L*W*H):
Type of scanner:
Optical
LANGUAGE :
Simplified Chinese, Traditional Chinese, English, and other Languages
STORAGE

User capacity :

1000

Transaction storage:

50000
ENROLLMENT & VERIFICATION

Verification method:

Fingerprint (1:1 , 1:N) , password , RFID card

Fingerprint placement (º):

Any angle

Identification time (sec) :

≤1sec

FAR (%):

0.0001%

FRR( %):

0.1%
COMMUNICATIONS

Communication:

RS232, RS485,TCP/IP,USB host

Baud rate (bps) :

9600, 19200, 38400, 57600, 115200

Wiegand:

Wiegand OUT, Wiegand IN
ACCESS CONTROL

EM lock driving output :

DC12V-3A

Access control function:

Control : 50 Time Zone ,5 Grouping, 10 Combination, Holiday Management ,support many fingerprints access ,support standalone work

alarm output :

One-way alarm output: dismantlement alarm, threatens alarm, unlock illegally alarm, not block alarm
CARD TECHNOLOGY

RFID:

N/A,

MIFARE:

N/A

HID:

N/A
MULTIMEDIA

Greeting voice :

Voice Prompt (language can be selected)

Dispaly:

LCD with 80 character and figure keypad

Music playback :

N/A

Movie playback :

N/A

OPERATING ENVIRONMENT

Temperature (ºC):

-10 ~ 45

Humidity (%):

20~ 80

Power input :

DC 12V-3A
FUNCTION

USB:

USB host